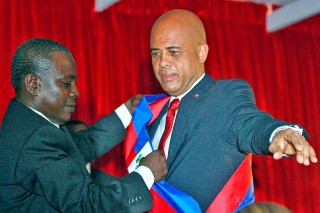 It has now been five months since the conclusion of Haiti's two-round presidential and legislative national elections. The presidential winner, Michel Martelly, has failed to form a government that might begin to tackle the enormous challenges facing the country. This failure is mainly because Martelly has insisted on nominating only his right-wing cronies for the post of Prime Minister.
The legislature (whose approval is required) has recently rejected Martelly's second nomination, that of former de facto Justice Minister Bernard Gousse. The Parliament has clearly indicated that it will not accept such unilateral nominations. Indeed, the Constitution instructs the President to choose a candidate "in consultation" with the heads of Haiti's two legislative houses. But President Martelly refuses to do this, vainly trying to stir up popular outrage at "stubborn and unreasonable" legislators in order to get his way. Instead of a reconstruction plan, Haiti gets a debilitating and destructive political dispute.
Martelly's provocative conduct outstrips his feeble mandate. The election that hoisted him to power was marred by many obstacles to voter participation, including the massive disruption caused by the earthquake, inadequate and fraudulent voter registration, and an insufficient number of voting stations (a fraction of what existed in previous elections). Haiti's largest political party – the Fanmi Lavalas of former president Jean Bertrand Aristide – along with smaller parties were banned from running. In the end, less than 25% of the electorate participated.
Haitian and international political-rights organizations (including 45 members of the U.S. Congress) said from the get-go that a fair election could not be held under these circumstances. But the foreign powers that have dominated Haiti since Aristide's overthrow in 2004 were determined to get a pliant and reliable president into office. They paid for the election and dismissed all criticism of its shortcomings, as recent WikiLeaked U.S. Embassy cables published by Haïti Liberté have shown.
Critics were proven correct during the vote's chaotic first round on Nov. 28, 2010, which was called a "fraud" or "fiasco" by almost every independent observer on the ground. Capitalizing on the confusion, Washington meddled via its Organization of American States (OAS) to name the run-off candidates, who advanced to a second round on Mar. 20, 2011. As planned, the winner, Martelly, is a trustworthy representative of Haiti's economic elite and its foreign allies.
Foreign powers have conspired for decades to enfeeble Haiti's government and national institutions, a history that Dr. Paul Farmer explains forcefully in his just-published book, Haiti After the Earthquake. Martelly's election is just another chapter in this long story.
On Jun. 28, 2011, the International Crisis Group (ICG) released a report on the post-earthquake humanitarian crisis. It said:
"Although efforts to develop a shelter and resettlement policy began in May 2010, it is still being debated because there is no government interlocutor at a technical or policy level who can sign off on an option. …
"The housing office (Entreprise publique de promotion des logements sociaux) still is without a comprehensive policy and effective authority to consolidate peace and order by improving urban housing. Nor does it have ministerial status or the capacity to bring together the core resources to respond to more than one million displaced. …
"Beyond a planned but not yet built industrial park [to the east of] Cap Haïtien, there are few signs that Haiti is building back better since donors pledged to contribute more than $5.7 billion over 18 months and $10 billion over 10 years to finance recovery.
"Eighteen months after the earthquake, the future remains uncertain for most citizens – in part because they have not been sufficiently included in the decision-making processes. Forced evictions from camps have caused further disruption in the lives of the displaced.
Canadian media has reported next to nothing about Haiti's reconstruction plan, or lack thereof. While the ICG report, among others in recent months, looked at governance, shelter, health care (including the growing cholera epidemic), and other dimensions of Haiti's crisis in considerable detail, these issues have gone largely unreported in Canada. (The latest in-depth analysis on this topic in mainstream media appears in the Aug. 4 edition of Rolling Stone.)
Canadian government "assistance" to Haiti (as distinct from charity and NGO efforts) is focused exclusively on police training and equipping prisons and is rarely examined.
Few of Canada's parliamentarians have shown any serious, ongoing interest in critically examining Haiti, or in proposing new ideas and alternative approaches. Parliament's Standing Committee on Foreign Affairs and International Development rarely discusses Haiti, and, when it does, it draws from limited and selective information sources.
A Canadian fact-finding delegation that I recently led to Haiti has issued a 17-page report on our findings. We observed a country in political and social crisis. Little measurable progress is being made towards meaningful and lasting development. We will circulate this report to members of Canada's Parliament, print and broadcast media, and the many social and political organizations that have shown interest and concern for Haiti. We hope this may encourage more discussion regarding Haiti's fate, including what has worked and what must change in Canada's role in providing assistance.
An earlier version of this article was published in the Canadian online journal The Mark. Roger Annis lives in Vancouver, British Columbia and is co-ordinator of the Canada Haiti Action Network (CHAN). In late June, he led a three-person, 10-day fact-finding mission to Haiti. You can read the delegation's report on the CHAN website: www.canadahaitiaction.ca. Go to the "Human Rights Reports" page of the website.