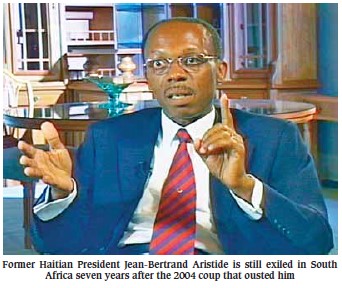 Following brazen diplomatic armtwisting, Haitian President René Préval and his Provisional Electoral Council (CEP) appear ready to give in to U.S.-instigated pressure to change the Nov. 28 presidential election results.
They are not formally adopting the Organization of American States' (OAS) demand that the CEP change its results so that the frontrunner, former first lady Mirlande Manigat, faces pro-coup konpa musician Michel "Sweet Micky" Martelly in a presidential run-off rather than Jude Célestin of Préval's Unity party. Instead, Célestin is contemplating to "withdraw his candidacy in the next hours," Senator Joseph Lambert, one of Unity's most powerful leaders, told Radio Metropole on Jan. 25.
But late that afternoon, Célestin cancelled the press conference to announce his withdrawal because Unity's leadership was split about the move. "There's no fi nal decision yet," Lambert told The Associated Press that evening as the party's leadership met behind closed doors.
This past week, US, UN, and OAS officials have made many statements threatening Préval's government with dire consequences if it did not follow their dictates.
"Having officially received the report of the OAS technical mission, the CEP must now honor its commitment to fully take into account the report's recommendations," UN Under-Secretary General Alain Le Roy said last week, meaning the CEP must follow the OAS "recommendations."
"Should the CEP decide otherwise," he continued, "Haiti may well be faced with a constitutional crisis, with the possibility of considerable unrest and insecurity. At this critical juncture, it is vital that the CEP be allowed to carry out its work without political interference," not counting his own, of course.
The climax came on Jan. 24 when US, French, Brazilian, Spanish, and European Union ambassadors and embassy officials, along with UN Mission to Stabilize Haiti (MINUSTAH) chief Edmond Mulet, bypassed Préval and directly delivered an ultimatum to the CEP to announce "definitive results" by Feb. 2 or they would cut off reconstruction aid and not recognize Préval's government after Feb. 7, the constitutionally set limit on Préval's term. But before it expired last year, the Unity-dominated Parliament passed a measure extending Préval's mandate to May 14, fi ve years after he was sworn in belatedly due to delays caused by the 2004 coup d'état.
Over the weekend, the US government also yanked the travel visas of 12 Préval associates as well as current and former government officials: Social Affairs Minister Gérald Germain, former Interior and Health Minister Jean Joseph Molière, former Commerce and Industry Minister Jean François Chamblain, former Finance Minister Fred Joseph, West Department Senator John Joël Joseph, businessman Dimitri Vorbe, Presidential spokesman Assad Volcy, popular organization liaison René Momplaisir, and Lionel Calixte.
"Washington and its carefully selected allies are telling Haiti what the results of their election should be," said Mark Weisbrot, codirector of the Washington-based Center for Economic and Policy Research (CEPR) in a Jan. 23 Sun Sentinel op-ed. "Of course, the election was illegitimate to begin with because the country's most popular political party, Fanmi Lavalas, was excluded from appearing on the ballot. Mostly as a result of this exclusion, only about a quarter of Haiti's voters went to the polls... [The US and allies']Great Fear is that if the election were to re-run – as it obviously should be – this arbitrary exclusion... might be called into question."
At the same time, Washington has been working to stop Aristide's return from exile in South Africa. "Haiti needs to focus on its future, not its past," tweeted State Department spokesman P.J. Crowley. But the South African Times reported this week that the South African "government has been negotiating with Haitian authorities, with the help of the Cuban government, since last year for Aristide's departure" from exile. "But his return has been delayed by US concerns that the former Catholic priest would destabilize the country," that is, his own, Haiti.
But the popular calls for Aristide's return have only multiplied since former Haitian "President-for- Life" Jean-Claude "Baby Doc" Duvalier unexpectedly arrived in Haiti on Jan.16. The California-based Haiti Action Committee put a full-page ad in the Jan. 23 Miami Herald, calling "on the Haitian government to immediately renew President Aristide's passport as he has requested, and to facilitate his return, without any conditions, to the country of his birth" as well as "on the international authorities, particularly the United Nations and the United States government, to end their opposition to President Aristide's return." The ad was signed by dozens of activists, lawyers, journalists, religious fi gures, artists, scholars, and celebrities, including actors Harry Belafonte and Danny Glover, authors Randall Robinson and Eduardo Galeano, fi lmmaker Oliver Stone, former U.S. attorney general Ramsey Clark, Dr. Paul Farmer, Bishop Thomas Gumbleton, and the Reverend Jesse Jackson.
Meanwhile, on Jan. 21, Duvalier finally held his long awaited press conference. Saying he had landed at the "François Duvalier International Airport," as the Toussaint L'Ouverture International Airport had been called prior to his 1986 departure in the face of a nationwide uprising, Baby Doc said he had returned "to pay homage to the numerous victims of the devastating earthquake of January 12, 2010" and was prepared for "all sorts of persecution" and "harassment."
While he offered "condolences to my millions of partisans" who he claimed were persecuted, brutalized and killed after his departure, he expressed no apology but only "deep sadness to my compatriots who recognize, rightly, that they were victims under my Government," not "of" his government. Duvalier may find that his "sadness" increases as four former political prisoners – Michèle Montas, Alix Fils- Aimé, Nicole Magloire and Claude Rosier - filed charges against him on Jan. 19 for "arbitrary imprisonment, exile, destruction of property, physical and psychological torture, and violation of civil and political rights," said their complaint.
This past week, it also came to light that Duvalier may returned to Haiti in an effort to get his hands on some $7.6 million that Swiss authorities have withheld from him. It is due to be returned to the Haitian government, but under a Swiss law that is due to take effect on February 1, Duvalier can reclaim the money if he manages to enter Haiti and leave again without being prosecuted and convicted of embezzlement. Even more alarmingly, after Duvalier's press conference three North Americans – former Georgia congressman Bob Barr, longtime Duvalier family adviser and lawyer Ed Marger and lawyer Mike Puglise – took questions from reporters.
"Marger, who handled most of the queries, said they were there to help Duvalier collect undelivered reconstruction funds promised by the United States and other countries at the March 31, 2010, U.N. donors' conference," reported Jonathan Katz of the AP. "He said Duvalier could manage them more effectively than former U.S. President Bill Clinton and distribute them more justly than current Haitian President René Préval."
So Duvalier is not satisfied with the $800 million that he and his cronies embezzled in the 1980s. He has come back to Haiti to see if he – with Barr & Company's help – can make off with some of the $10 billion that other nations have promised for Haiti's reconstruction.