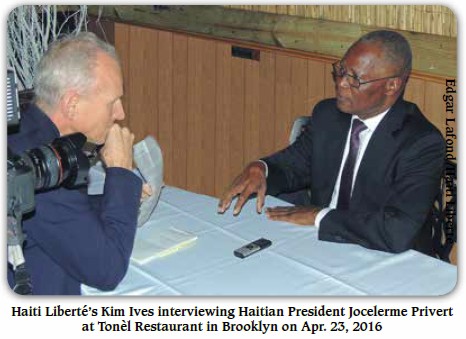 Haiti's Provisional President Jocelerme Privert visited New York this past weekend to attend the Apr. 22 signing, by many heads of state and government, of the Paris Climate Agreement which was reached on Dec. 12, 2015. In addition to that ceremony at the United Nations General Assembly, President Privert held several other meetings with UN and other government officials, as well as with businessmen and Haitian doctors, among others. On Saturday, he also made a mostly unpublicized visit to Brooklyn's Haitian community, where Haïti Liberté's Kim Ives was granted an exclusive interview at Tonèl Restaurant. The interview was conducted in Kreyòl and has been translated into English.
- - - -
President Privert, you are now 76 days into your mandate of 120 days. The political situation is very polarized with the majority of the Haitian people and the political class asking for an electoral verification commission but with Washington and the Haitian Bald Headed Party (PHTK) opposing it. Do you think you can determine what were the irregularities of the Aug. 9 and Oct. 25 elections, take the appropriate corrective measures, which may include new elections, and have an elected government in place within the 44 days remaining in your mandate?
First, I do not believe that it is my responsibility as provisional president to say if there were irregularities or not in an election. That's the responsibility of the political actors.
I will remind people that an election was held on Oct. 25. The results were published in November, and there was foreseen a second round with two clearly identified candidates. As soon as the results came out, there was much controversy around those results. The actors, the political parties, clearly showed their refusal to accept the results they were given. There were two candidates who were to go to a second round, but there was one of them, despite the election results, who said he would not go to a run-off until light was shed on the irregularities that everyone was denouncing.
The second round was set for Dec. 27. It was postponed to Jan. 17. It was then postponed to Jan. 24. Have the problems which caused the run-off to be postponed three times been resolved yet?
Thus, today, the actors are asking that trust be restored to the electoral process for them to return to elections. It is not the provisional president who asks it, it is the political actors. Can we have a presidential election with a single presidential candidate? We can't do that. Thus we must restore trust in the electoral process so that the actors can accept returning to participate in the elections. That's the first element.
The second element is that you said I have 44 days left since I've been in power 76 days. The 120 days which is written into the Feb. 5 accord did not come out of thin air, it is the country's very Constitution which says it: in the event of a presidential vacancy, elections for a new president will be organized within 60 to 120 days. What does that mean? When there is a presidential vacancy, that doesn't mean there is no government. That doesn't mean there is no electoral council.
In the case of what happened on Feb. 14, when President [Michel] Martelly came to the end of his mandate [on Feb. 7], there was a government, but it didn't have any constitutional legitimacy. There was no electoral council because six of the nine members who formed the CEP [Provisional Electoral Council] had resigned.
My mandate in the framework of the Feb. 5 accord was:
First, enter into consultation with all the political actors, both those who had representatives in Parliament as well as those who did not. Enter into consultations with all the actors of civil society for me to form a government of consensus. I was inaugurated on Feb. 14. On Feb. 24, that is 10 days later, I had already named Fritz Jean as Prime Minister and I formed a government.
Second, I had to form an Electoral Council. While simultaneously consulting people for the formation of a government, I was consulting sectors also to make an Electoral Council. And since Feb. 24, the nine people to form the Electoral Council were all already known and available.
However, that accord which you refer to had three people sign it: President Martelly, the President of the Senate, which was me, and the President of the Chamber of Deputies. Each of the actors had a responsibility. The Chamber of Deputies has a responsibility. The Senate has a responsibility. When I named Fritz Jean Prime Minister on Feb. 24, it wasn't until Mar. 19 that the Chamber of Deputies rejected the choice of Fritz Jean. That means 25 days had passed. As soon as they rejected him, I returned to consultations, and on Mar. 25 I formed a government.
Today, I have a government, I have an Electoral Council. Since the date of elections is never the responsibility of the president, it is the responsibility of the Electoral Council, it is only the Electoral Council which can say when elections can be done in Haiti or not.
44 days, 76 days, you have to put it all in the context of the conditions which are indispensable for elections to be held in Haiti.
There is another contradiction. The accusations of fraud and violence apply to many of the parliamentary races. Are you ready to confront parliamentarians who have vowed that there will be no review of their so-called victories?
In its conclusions, the Evaluation Commission which President Martelly formed last December said there were many serious irregularities, and it asked for a thorough verification of those irregularities. Today, the Electoral Council, which has a mandate to hold elections, says it is facing a political blockage. Thus, I, as the President of the Republic, respecting the Constitution which gives me the right to assure the smooth functioning of the state so that I can allow the Electoral Council to function well, and it says there is a political blockage, so I enter again into consultations with all the political actors for me to find the way to allow the Electoral Council to remove that blockage which is making it unable to organize the election.
Does that mean that some of the Parliamentary seats may be challenged?
It's not me who has the power to say that.
Assuming that your 120 day mandate is not enough to usher in an elected government, will you seek to obtain a renewal of your mandate from this contested parliament, and do you think that this parliament, which is largely hostile to verification, would renew your mandate?
What says that the Parliament is contested? That is an opinion. Presently, there are three powers constituting the State, that is the executive, the judiciary, and the legislature. We have these two institutions which are functional: the Parliament and the Executive. When you talk of May 14, I return with you to the Feb. 5 accord. It was very clear, all the signers were agreed, there might be constraints to prevent elections being held Apr. 24, there might be constraints that prevent a new president coming to power on May 14. That's why even in the accord they say: "if in the 120 days, the objectives foreseen in the framework of this accord are not achieved, it falls to the National Assembly to take the measures that are necessary." The National Assembly is a meeting of the Chamber of Deputies and the Senate.
You think they will renew your mandate then?
I don't have anything to say about that. I have one thing in mind: the political stability of this country. For almost 30 years, we've been holding elections. Every election we have always becomes an electoral crisis, and from an electoral crisis, a political crisis. Today, I am motivated to organize an election which will finally put an end to the political instability in the country, to allow at least investors who can invest in the country to finish with this question of poverty which is the principal scourge that affects the Haitian people.
You have lived through coups d'état before. The last time I saw you was in 2005 in the National Penitentiary where you were a political prisoner. With the situation becoming more contentious, do you think it possible that there could be another military coup d'état, either by right-wing paramilitary forces, who have expressed their readiness to act, or by the UN Mission to Stabilize Haiti (MINUSTAH)?
Myself, I have not lived through coups d'état. As a Haitian citizen, I always see coups d'état carried out. Today, is it possible for the country to return to an anachronism whose time is past? Are there people who still dream of replacing popular sovereignty? The nation's Constitution says that people can come to power only through elections, and I believe that anybody who wants the well-being of the Haitian people, if he or she comes to power, he or she should come to power by way of the ballot box.
In an attempt to pressure your government, Washington and its allied international institutions have begun to turn off the aid spigot to Haiti, despite the worst food crisis in decades. Were you surprised by that, and what do you intend to do about it?
I won't respond to your question they way you've posed it. An International Monetary Fund delegation came to Haiti last November. It made an evaluation of the macro-economic situation of the country. It was supposed to return in January. It did not return in January. There had not been a change in government. They didn't return because the government had not made the economic reforms it had to make. So, since then, the direct financial assistance to Haiti has stopped. We call that budgetary support.
Today, it is true, the country faces a serious crisis of food insecurity which threatens 3.5 million Haitian citizens. And if we do nothing, five million people can be affected by this food crisis. Every contact, every meeting, every discussion I have with Haiti's partners, what they call the donors – whether it's the United States government, the Canadian government, the European Union – all are agreed to give humanitarian assistance to Haiti to deal with this food insecurity. Aid to Haiti has never been an easy thing.
Furthermore, we can say, after the earthquake, there were many people mobilized to bring humanitarian assistance to Haiti, but until today the aid which is necessary for us to repair the damage caused by the earthquake has never yet arrived. We can realize that Haiti is a country that is still in ruins because all the public buildings which were destroyed are all still on the ground. That means, Haiti needs assistance. We need assistance, we need the capacity to rebuild, to repair all the damage that all the natural catastrophes have caused in Haiti.
What is your opinion of the inquiry being conducted by Sen. Youri Latortue into the corruption of previous Haitian governments, when, according to U.S. Embassy cables released by Wikileaks, Latortue is himself a "poster boy for political corruption"?
When I arrived in power, there were many political actors who asked me to create a commission of administrative inquiry for me to shed light on the way the government was administering public funds, particularly the PetroCaribe fund. I am someone who believe in the law, I believe in the Constitution, I believe in the country's institutions.
Publicly, I have said that I'm opposed to the creation of any commission of administrative inquiry for it not to be transformed into an institution of political persecution. I am not against the institutions which the law created to audit the administration of all public officials from doing their work. I say the institutions which are there to do that should do it. I am talking about the Court of Auditors, the Unit for the Struggle against Corruption (ULCC), the Central Financial Intelligence Unit (UCREF). I say it is with these three institutions that we can create a task force to evaluate how state money was spent.
Every parliamentarian, whether deputy or senator, he has the purview to shed light on how any public official handles state money. What is desirable, whether it is a commission of administrative inquiry, the Court of Auditors, the ULCC, or the UCREF, I have the responsibility to prevent any action from being done outside of the law, outside of the Constitution, for it not to be perceived as a case of political persecution.
The Parliament, as a sovereign entity, it can assure that public funds are well managed but it is not good for a parliamentary commission to take political revenge, for them to take their prerogative to persecute people. That is why I exhort my parliamentary colleagues to work in strict respect of the law and the Constitution.