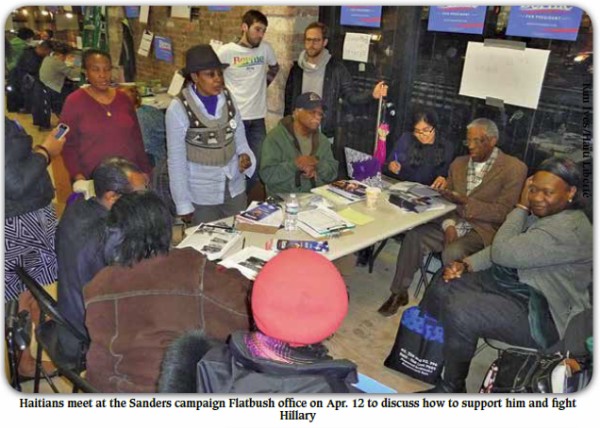 Haitians in New York City are flocking in great numbers to the campaign of challenger Bernie Sanders, hoping to give leading Democratic Party presidential candidate Hillary Clinton a little payback for her meddling in Haiti's 2010-11 election when she was the U.S. Secretary of State.
On the evening of Apr. 12, about 15 Haitians gathered at the Sanders mobilizing office at 1300 Flatbush Ave., corner of Foster Ave., to plan canvassing routes and lawn sign distribution for the campaign.
"We had a good meeting, and everyone is very motivated," said Marlène Jean-Noel, a veteran Haitian activist who had proposed a Haitian march and rally with Sanders the day before to Nadya Stevens, NY State Director for Bernie 2016. Jean-Noel had gone to the Sanders campaign headquarters in Gowanus with a delegation from a recently formed "Haitians for Bernie Sanders" coalition, one of at least three which have popped up in the New York Haitian community.
"If Haitians unite in a strategic alliance behind the Sanders campaign, this can influence large sectors of the black American Democratic Party base who are either fooled by the Clinton campaign's propaganda or, if they sympathize with Sanders' message, as many do, are fearful that he cannot win," Jean-Noel's coalition wrote in a statement which was given to Stevens.
"If Sanders wins New York State [in the Apr. 19 primary], this will be a crushing blow to Hillary Clinton, not just in terms of its large number of delegates, but symbolically and psychologically, because she was the state's senator."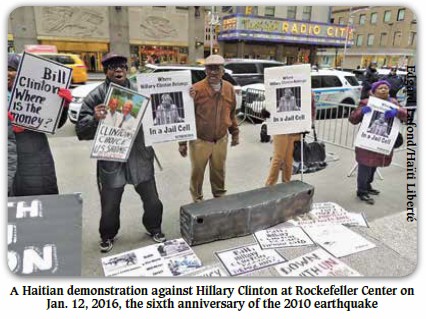 Haitians are primarily angry that Hillary intervened in Haiti's sovereign elections to make Haitian President Michel Martelly president in 2011. But they also condemn her for fighting the Haitian Parliament's efforts in 2009 to raise the Haitian minimum wage to $5 a day (winning $3 instead), impeding exiled President Jean-Bertrand Aristide's return home in 2011, and, after the 2010 earthquake, unilaterally deploying in Haiti without permission 22,000 U.S. troops, who brought more guns than gauze. Clinton also always supported MINUSTAH, the hugely unpopular UN military occupation of Haiti, first deployed after the 2004 coup d'état against Aristide.
Haitian ire also comes from the record of Bill Clinton, who is blamed for hijacking the post-earthquake Interim Haiti Recovery Commission's $13 billion in international aid to build sweatshops and luxury hotels and for destroying Haiti's rice production by dumping cheap Arkansas rice on the country. (Clinton now publicly admits that this was a "terrible mistake," the consequences of which he "must live with for the rest of my life.")
On Sun., Apr. 17 at 3 p.m., Haitians will join in a rally outside Clinton campaign headquarters at 1 Pierrepont St. in Brooklyn to denounce her role not only in Haiti, but in Honduras, Libya, Syria, and the Ukraine as well.
"Always a hawk, she was a fervent supporter of the attack on Iraq and not only supported the invasion of Afghanistan but pushed for even greater involvement," the international coalition organizing that rally wrote.
With perfect timing, on Apr. 11, Counterpunch published an account of how Clinton used her "soft power" to shoehorn Martelly into office. The article was an excerpt from the recent book "International Crossroads and Failures in Haiti" by Ricardo Seitenfus, a Brazilian law professor who was the Organization of American States (OAS) Special Representative to Haiti from 2009 to 2011.
After the earthquake, Hillary's "idea was to transform Haiti into a Taiwan of the Caribbean, with maquiladoras, an apparel industry, tourism, and call centers," Seitenfus explained. "These would be the niche sectors that would guide the new cooperation framework. In this plan, the particularities of Haiti itself didn't matter much."
Seitenfus explains how in a December 2010 diplomatic meeting on Haiti's election crisis, he and then Prime Minister Jean-Max Bellerive turned back the U.S. Ambassador and his allies who had "plotted a coup against Haitian President René Préval." However, the coup would come a month later, Seitenfus explained, when "on Sunday, January 30, 2011, the unavoidable foreign actor in the recurring Haitian political crisis decided to put an end to the dispute. Hillary Clinton had arrived in Port-au-Prince."
Seitenfus masterfully relates how, with the couched euphemisms of a Mafia don, Hillary commanded Préval, without doing so, to withdraw his protégé, Jude Célestin, from the presidential race if he wanted to reserve for himself "a special place in the pantheon of Haiti's history and the struggle for democracy in the continent."
"Préval replied with an emotive, albeit enigmatic smile," Seitenfus concludes. "It was only him who knew that the crisis had reached its epilogue at that moment."
Clinton has a few Haitian-American elected officials supporting her, like New York State Assemblywoman Rodneyse Bichotte. However, those endorsements don't count for much among the Haitian grassroots, where influential radios, like Radio Panou, are running pro-Sanders spots.
Bernie Sanders has beaten Hillary Clinton in seven out of the past eight primaries, but if she loses New York, it could be her Waterloo. Haitians are pushing hard to make it just that.