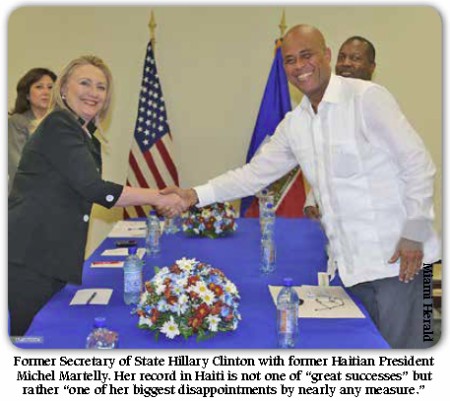 In recent weeks, the mainstream U.S. media has begun to address a problem that Haitians have raised for years: that Hillary Clinton and her husband Bill have a terrible track-record in Haiti, where they have meddled in elections, misdirected earthquake reconstruction funds, and undermined Haitian sovereignty.
On Mar. 10, the Washington Post published an op-ed by Karen Attiah entitled "Hillary Clinton needs to answer for her actions in Honduras and Haiti." Attiah noted that the Mar. 9 debate between Hillary Clinton and Bernie Sanders in Miami "was a missed opportunity to ask Clinton serious questions about her actions and policies in Haiti, a country where she and her family have wielded immense power and influence over the course of the past two decades."
Addressing Haiti's 2010-11 elections, Attiah reviewed how Secretary of State Clinton "pressured then-President René Préval with the loss of U.S. and international aid unless the election results were changed to fit the OAS's recommendation," which was, in fact, her recommendation. This was how former President Michel Martelly came to power.
On Mar. 14, the New York Times published a story by Yamiche Alcindor entitled "High Hopes for Hillary Clinton, Then Disappointment in Haiti."
The article outlines the deep anger and hostility many Haitians, both in Haiti and the U.S., feel toward the former Secretary of State.
As Hillary Clinton "seeks the world's most powerful job and Haiti plunges into another political abyss, a loud segment of Haitians and Haitian-Americans is speaking of the Clintons with the same contempt they reserve for some of their past leaders," the article explains.
Alcindor's article also points to Ms. Clinton's role in bringing Martelly to power, as well as the heavily criticized role the Clintons played in Haiti's earthquake recovery efforts, among other complaints.
Ms. Alcindor cites one of the many declassified emails off Hillary Clinton's private server as particularly revealing.
"You do great elections," Cheryl Mills, Hillary's chief of staff wrote to U.S. Embassy officials on the night of the Mar. 20, 2011 run-off which brought Martelly to power. Saying she would soon take them to dinner, Mills quipped: "We can discuss how the counting is going! Just kidding. Kinda. :)"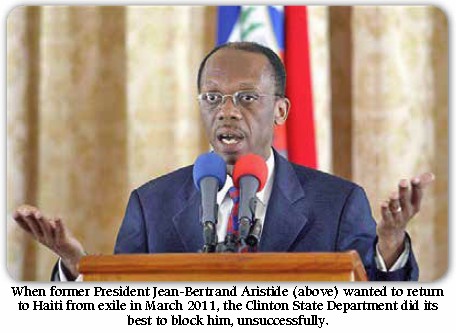 Such glimpses of the secret inner workings of the Clinton State Department are key to understanding Hillary Clinton's political view and approach to power.
However, the best look into these inner workings came from secret State Department cables provided by the media organization WikiLeaks to Haïti Liberté five years ago.
In June 2011, Haïti Liberté, in partnership with The Nation magazine, began publishing a series analyzing about 2,000 WikiLeaked secret cables.
The Jun. 15 article entitled "U.S. Worried about International Criticism of Post-Quake Troop Deployment" revealed that "even before the Haitian government authorized it, Washington began deploying 22,000 troops to Haiti after the Jan. 12, 2010 earthquake, despite U.S. Embassy officials saying there was no serious security problem."
Furthermore, "the earthquake-related cables show that Washington was very sensitive to international criticism of its response, and U.S. Secretary of State Hillary Clinton mobilized her diplomatic corps to ferret out 'irresponsible journalism' worldwide and 'take action' to 'get the narrative right.'" This resulted in U.S. diplomats browbeating editors around the globe who put out reports critical of the U.S.'s militarized response.
On Jun. 8, the article "Washington Backed Famous Brand-name Contractors in Fight Against Haiti's Minimum Wage Increase" explained how the Clinton State Department continued the policy of George W. Bush's government to work "closely with factory owners contracted by Levi's, Hanes, and Fruit of the Loom to aggressively block a paltry minimum wage increase for Haitian assembly zone workers, the lowest paid in the hemisphere."
In 2009, after Clinton had become Secretary of State, the State Department's Agency for International Development (USAID) was in complete agreement with the Association of Haitian Industry (ADIH), both of which funded studies which found (erroneously, history would later show) that a wage hike to $5 a day would make the assembly "sector economically unviable and consequently force factories to shut down," a secret Jun. 9, 2009 U.S. Embassy cable revealed. The Clinton State Department instead pushed for, and won, a hike to only $3 a day instead.
In December 2009, Hillary Clinton also allowed the U.S. Embassy in Haiti to support an election which dishonestly excluded Haiti's largest party, the Lavalas Family (FL), because there was "too much invested" to pull out, another Jun. 8, 2011 Haïti Liberté article revealed.
Although he went along with the European Union, Canada, and others to continue funding to the upcoming 2010 election, U.S. Ambassador Kenneth Merten had opposed the Lavalas Family's exclusion for a curious reason. He feared the party would come out looking "like a martyr and Haitians will believe (correctly) that [then Haitian President René] Préval is manipulating the election," he wrote in a Dec. 4, 2009 secret cable.
In a Jul. 28, 2011 article drawing largely on WikiLeaked cables, Haïti Liberté explained how Hillary Clinton's State Department continued the Bush administration's policy of trying to keep former President Jean-Bertrand Aristide from returning to Haiti from exile.
For example, a U.S. diplomat met with Vatican officials shortly after the Jan. 12, 2010 earthquake and urged them to convey to the government of South Africa, where Aristide was living in exile, their opinion that "Aristide's return [to Haiti] would be a disaster."
Hillary Clinton's recently declassified emails also show how State Department officials were trying to discourage Aristide's Mar. 18, 2011 return. A Mar. 14, 2011 letter by State's then Haiti Special Coordinator Thomas Adams reports on a discussion he'd had with Rep. Maxine Waters (D-CA) that day.
Waters wanted Aristide's return to Haiti before the Mar. 20, 2011 election because she feared a likely Martelly victory would block Aristide in exile. "She was not as hysterical as she has been on prior conversations," Adams smugly noted, and he told her that her fear "was unfounded."
"She gave her own history of our [the U.S.] relationship with Aristide (the kidnapping, not allowing FL to register for this election, our unwillingness to provide him security upon his return, etc.) all of which I gently pushed back on," Adams wrote. "I suggested she allow us to give her a classified briefing on all of this at some point in order to correct factual untruths related to this."
One might think that as a fellow Democrat, Hillary Clinton would value the opinions and experience of Representative Waters, perhaps one of the U.S. lawmakers closest to Aristide and most involved with fighting injustice in Haiti. The Clinton emails show, however, that they saw her as a nuisance.
The secret cables released by WikiLeaks and Clinton's declassified emails all help people to better understand how a Clinton foreign policy would differ from that of her challenger Bernie Sanders, who has voiced a strong position in favor of non-intervention and respecting national sovereignty. The current situation is perhaps best summed up by the AP's former Haiti correspondent Jonathan Katz.
Hillary Clinton had wanted "to make Haiti the proving ground for her vision of American power," he told the Washington Post. "By now I'd imagine she was expecting to constantly be pointing to Haiti on the campaign trail as one of the great successes of her diplomatic career. Instead it's one of her biggest disappointments by nearly any measure, with the wreckage of the Martelly administration she played a larger role than anyone in installing being the biggest and latest example."