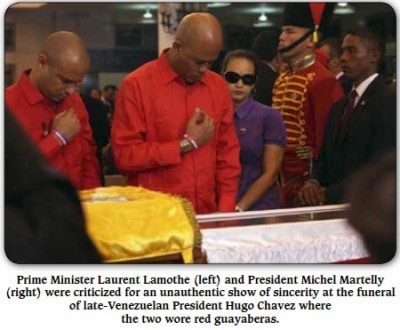 MIAMI, USA (sentinel.ht) - President Michel Martelly made statements that will surely alienate Haiti's largest and only direct supporters, Cuba, which for decades has led in training and producing Haitian doctors, and Venezuela, which has more than doubled the Haitian national budget through its Petrocaribe program.
During "Gouvenman An Lakay Ou", a publicly-funded program highly criticized for wastefulness, ineffectiveness and its partisan campaign-like nature, Martelly told a crowd of a few hundred that "communists" should not be elected into office before vaguely lending his support for Prime Minister Laurent Lamothe's candidacy for presidency.
The communist government of Cuba and the socialist government in Venezuela have made unparalleled and direct support to Haiti for many years, support not tied to non-governmental organizations and foreign contractors, but support with the aims of reducing Haiti's dependence on international donors.
Petrocaribe, for example, was an agreement entered into by former President René Préval and the late-Venezuelan President Hugo Chavez. Petrocaribe puts hundreds of millions of dollars every year directly into Haiti's national budget, monies that are now being used and mismanaged to the benefit of President Michel Martelly and Prime Minister Laurent Lamothe, notably through a series of campaign-style events in the guise of social assistance programs.
Martelly's speech at "Gouvenman An Lakay Ou" in Miami was the kind of discourse that would have garnered geo-political attention during the time of the Cold War, Cuban missile crisis, and McCarthyism. It was the kind of talk that gave a brutal dictator, such as Francois Duvalier, U.S.-backing. But in a time where the threat of the spread of communism is low, Martelly's desperate statement appeared ignorant, opportunistic, and, in context, anti-democratic, anti-people.
It should be recalled that a week earlier, during another wasteful campaign-like event in Ouanaminthe, Haiti, Martelly told a crowd of a few dozen supporters not to vote "poor" people into office.
In Miami, Michel Martelly, who worked for the first two years of his presidency to stop Constitutional amendments that now allow the Haitian Diaspora to vote, told the Haitians in Miami to vote for his prime minister, Laurent Lamothe, rather as his successor in 2015. A tough request after three years of an administration marked by scandal, corruption, mismanagement, and crumbling democratic institutions.