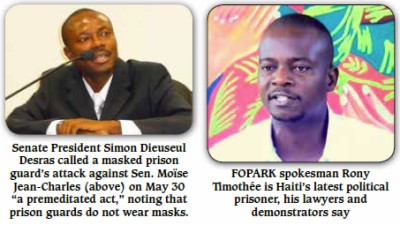 A masked prison guard in Arcahaie struck Sen. Moïse Jean Charles on May 30 as he attempted to visit Rony Timothée, a spokesperson for the grassroots organization "Patriotic Force for the Respect of the Constitution" (FOPARC).
Mr. Timothée, arrested May 19 while driving on the Airport Road in Port-au-Prince, has been imprisoned on charges of "disturbing public order and setting a vehicle on fire," according to Haitian National Police (PNH) spokesman Gary Desrosiers.
Sen. Moïse arrived at the entrance to the prison in the town 30 miles north of Port-au-Prince leading dozens of political activists when prison guard Julien Frantzy hit him in front of the crowd. Other agents of the National Penitentiary Administration (APENA) closed the doors to the prison, preventing the Senator from visiting the political prisoner, although he had the documents permitting him to do so.
The crowd, outraged by the assault on the Sen. Jean-Charles and his being denied access to Mr. Timothée, banged on the closed prison doors. They then spontaneously demonstrated in front of the jail, demanding President Michel Martelly's resignation and his arrest for systematically violating the Constitution and misappropriating state funds. The demonstrators also accused Martelly of being behind the mysterious death in July 2013 of Judge Jean Serge Joseph, who was investigating Martelly's wife and son for corruption.
"If the Police are becoming [Tonton] Macoutes, we will burn them," the crowd chanted, referring to the fate of many Duvalier dictatorship henchmen after President-for-Life Jean-Claude "Baby Doc" Duvalier fled the country in February 1986. "No matter what, Martelly has to go!"
Sen. Jean-Charles held an impromptu press conference with reporters in front of the prison."When I came here, I identified myself as Senator Moïse [Jean-Charles] and presented an authorization duly signed by Commissioner Claude Jean, and then [prison guard Frantzy Julien] hit me. I do not know why he hit me. Honestly, I do not know. For some time now I have said that we are faced with a dictatorship. Some did not want to believe me. But today, the dictatorship is clearly before us. He hit me in front of everyone. I have been targeted repeatedly. Last time, it was in Gressier [on May 8] and today it is in Arcahaie. Previously it was in Plaisance and Aux Cayes. When I get back to the Senate, we will decide what follow-up to give this matter."
The senator and his followers then went to the Arcahaie Courthouse to file a complaint in accordance with the law. Judge Henry Claude Louis-Jean reportedly began to take down the complaint but then suddenly jumped up and left through a back door. Outraged by the judge's flight, the angry crowd ransacked his office.
Senate President Simon Dieuseul Desras called the attack "a premeditated act," noting that APENA police generally do not wear masks. "Why were the police masked that day?" he asked. "The PNH director, Godson Orélus, must take responsibility, if he doesn't want to put his position in jeopardy. He must take all necessary measures even before he comes [to testify] before the Senate. This case was being discussed today [Jun. 2] at the Conference of [Parliament's] Presidents. Sen. Moïse Jean-Charles wants to summon all those responsible for this assault against him. The electoral environment in the country is not guaranteed."
On May 31, Hugues Céléstin, the former deputy of Limonade/Quartier-Morin northern Haiti, was attacked at about 1:25 p.m. after he left the popular radio show "Ranmase" at Radio Caraïbes FM. A short distance from the station, on Rue Magloire Ambroise, armed men fired on his car and several bullets shattered his windows. Mr. Céléstin is a leader affiliated with the Patriotic Movement of the Democratic Opposition (MOPOD) in Cap Haïtien.
Sen. Wesner Polycarpe said the attacks on Mr. Timothée (who was a former candidate for deputy), Sen. Jean-Charles, and Mr. Céléstin were part of a generalized "campaign against Parliamentarians," and were a way to scuttle elections, now tentatively scheduled for Oct. 26, so that Parliament expires in January 2015. He said the Martelly government would like to establish a "dictatorship in the style of Duvalier, their mentor, their ideological reference in politics."
Also on May 30, policeman William St. Fleure, 48, an Agent 4 from the PNH's 11th promotion, was killed by gunmen in the capital's Petite Place Cazeau inside his store. The assailants stole a bag containing his weapon. Officer St. Fleure had been assigned to the Security Branch of the PNH.
The climate of violence was further heightened this week in the town of Lilavois, north of the capital, when anti-riot police from the elite UDMO and CIMO units fired into a crowd of demonstrators demanding the construction of six kilometers of road promised by President Martelly during his passage there in 2012. The shooting killed two people. One of them has been identified as Hommé Noël. Fatally struck by a police bullet while standing in front of his home, he was not among those demonstrating. Six other people were wounded.
In the midst of all this confrontation, Haitian police, backed by UN occupation troops known as MINUSTAH, evicted hundreds of people from their homes last week in downtown Port-au-Prince near the National Palace to clear the way for the construction of a new complex of government offices. Distraught people filled the streets, some cursing, some wailing. The mood in the country is turning angrier and uglier with every passing week.