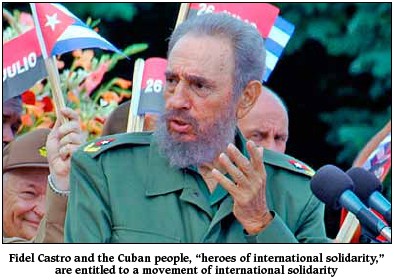 A large majority of the member countries of the United Nations, countries and popular organizations that have benefitted from the solidarity of Fidel Castro and Cuba in the form of aid in health care, education, and the defense of the political and economic rights of minorities since the Revolution of 1959, have never stopped denouncing and criticizing the criminal United States embargo against Cuba, but without much success.
It is time to resort to a peaceful international solidarity movement and unleash a series of mass demonstrations on specified days to protest against an embargo whose aim is to destabilize Cuba's economy and inflict inhumane suffering on its people, and more specifically on children and the most vulnerable sectors of the population. Haitians who have served the cause of human liberty by abolishing slavery are well placed to undertake such an initiative.
We are convinced that by establishing links with organizations and countries that have constantly expressed their opposition to such an inhumane policy, we could form a committee to coordinate and actualize these public demonstrations to pressure the United States government to end its international violation of the Cuban people's rights. Let us then take the initiative to launch such a movement, to which Fidel Castro and the people and government of Cuba, heroes of international solidarity, are entitled. Acta non verba. Abrazo. Franck.
Franck Laraque is Professor Emeritus of New York's City College