Two films about Haiti are part of this years prestigious Tribeca Film Festival, which will take place from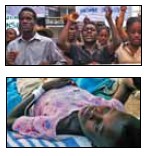 Apr. 18 to 29 in New York City.
Patricia Benoit's long-awaited feature "Stones in the Sun" (Wòch nan soley) will make its world premiere as part of the Festival's Viewpoint program on Apr. 22. The film follows the lives of three pairs of Haitian refugees in 1980s New York City to explore the themes of Haiti's fierce political struggle and the expatriate experience. "Authentically tapping into the reality of the unique Haitian-American experience, Benoit sensitively represents the characters' conflicted desire to return to a home that no longer exists," writes the Tribeca Festival's Liza Domnitz.
Meanwhile, "Baseball in the Time of Cholera" by David Darg and Bryn Mooser will be part of Tribeca's Short Documentary competition, first showing on Apr. 21. The film is the story of Joseph, a young baseball player, and Mario Joseph, the Haitian lawyer fighting for compensation from the UN for the victims of Haiti's cholera epidemic. As the epidemic spreads, the two stories intersect in the struggle for survival and justice.
For more information and to buy tickets, visit www.tribecafilm.com.
Showtimes
"Stones in the Sun" (Wòch nan soley) (95 min., 2012)
Sun, 4/22, 8:30PM, Clearview Cinemas Chelsea 4
Wed, 4/25, 6:30PM, Clearview Cinemas Chelsea 6
Sat, 4/28, 1:00PM, Clearview Cinemas Chelsea 5
"Baseball in the Time of Cholera" (27 min., 2011)
Sat, 4/21, 6:00PM,AMC Loews Village 7 - 1
Mon, 4/23, 12:00PM, AMC Loews Village 7 - 1
Fri, 4/27, 9:45PM, Clearview Cinemas Chelsea 8
Sun, 4/29, 6:30PM, Tribeca Cinemas Theater 1