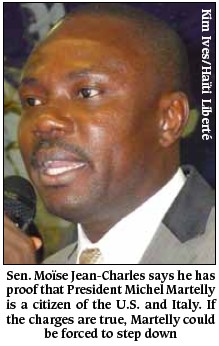 Senator Moïse Jean-Charles says that he has proof that Haitian President Michel Martelly is a citizen of the U.S. and Italy.
If the charge is true, it means that Martelly would have lied to Haitian electoral authorities when submitting his candidacy in 2010. Haitian presidential candidates cannot hold dual citizenship under Haiti's unamended 1987 Constitution, which was still in force when Martelly ran his presidential campaign.
The U.S. State Department gave an evasive response to Haïti Liberté's request for clarification of Martelly's alleged U.S. citizenship.
Jean-Charles, who represents Haiti's North department, also said he has evidence that three other high-ranking officials in the government of Martelly's Prime Minister Garry Conille also have dual nationality. According to the senator, Foreign Minister Laurent Lamothe is Bolivian, Tourism Minister Stephanie Balmir Villedrouin is Venezuelan, and the Interior Ministry's Secretary of State Georges Racine is a U.S. citizen.
Meanwhile, Sen. Jean William Jeanty of the Nippes department said in a radio interview that he suspects Prime Minister Conille of being Canadian because Conille's passport, when inspected by senators in his nomination review process, showed no markings of his travel to Canada, where many of his close family members reside. Conille provided no other documents indicating any travel to Canada, which makes Jeanty suspect that Conille holds a Canadian passport.
Sen. Jean-Charles told Haïti Liberté that he had received a copy of Martelly's foreign passport from a woman residing in the Dominican Republic named Maria Vultudes. She is allegedly a former girlfriend of Martelly and now feels wronged.
On Jan. 9, the Haitian Parliament began its new session. Up until then, Jean-Charles chaired the nine-member Senate Commission investigating the possible dual nationalities of high-ranking Haitian government officials. But on that Monday, Southeast Sen. Joseph Lambert and Artibonite Sen. Youri Latortue, both Martelly allies, were installed as the Commission's new president and secretary respectively.
"They carried out a coup d'état in the Commission while I was not there," Sen. Jean-Charles told Haïti Liberté.
Jean-Charles has submitted what he believes to be incontrovertible evidence to the Commission, which should issue a report soon. "My parliamentary colleagues, Commission members, are in front of a fait accompli," Jean-Charles told the Haitian Press Agency. "They will not be able to back-up even if they are personal friends of the chief of state."
Latortue and Lambert helped Martelly last month by using their powerful positions on the Commission looking into the illegal arrest of Deputy Arnel Bélizaire in November. The two senators effectively blocked the likely removal of Interior Minister Thierry Mayard Paul, a close Martelly advisor and ally, who personally played a role in and was directly responsible for Bélizaire's arrest.
In July, a source who had been in close contact with the Haitian president in the past told Haïti Liberté that Martelly has had a U.S. passport since the 1990s. The source asked not to be identified.
Pursuing other leads and rumors about Martelly's U.S. passport last May just days before his inauguration, Haïti Liberté was given the following response from a State Department official: "To the best of our knowledge, the Department of State has no reason to believe that Haitian President-elect Martelly now holds, or has ever held, U.S. citizenship."
The State Department's curiously conditional and open-ended response to what should be a simple yes-or-no question only increases suspicion about Martelly's U.S. citizenship.
A State Department spokeswoman told Haïti Liberté that it cannot reveal information about people's citizenship due to U.S. privacy laws.
If he does hold foreign citizenship, Martelly could be forced to step down by the Parliament established as a High Court of Justice. Other high-government officials, like Lamothe, Villedrouin and Racine, would also have to be removed under the Haitian Constitution.
Article 135 of the unamended 1987 Haitian Constitution states that to "be elected President of the Republic of Haiti, a candidate must... never have renounced Haitian nationality." Article 15 stipulates: "Dual Haitian and foreign nationality is in no case permitted."
Faced with persistent rumors prior to his inauguration, Martelly denied ever "renouncing" his Haitian citizenship but never explicitly denied having had U.S. citizenship. "I'm Haitian," he declared in April 2011. "I never renounced my citizenship."
Martelly has not publicly reacted to Jean-Charles' latest charges.
Beginning in May 2011, a purported photograph of the identification page of Martelly's U.S. passport – numbered 043911220 and dated for only five years – circulated on the Internet, but it was quickly flagged as a fake.
If Martelly does have a foreign passport, his disqualification as president would be straightforward because the transgression would have occurred prior to his May 14, 2011 inauguration.
The matter is more complicated if the allegations about the other ministers and the suspicions about Prime Minister Conille prove true. This is because the Haitian Constitution is presently in limbo.
In 2010, the Parliament amended the Constitution to allow dual citizenship, among many other changes. But amendments passed under one president don't take effect until after the inauguration of the next head of state. The amended Constitution was signed by then President René Préval and published on March 16, 2011 in the government journal Le Moniteur. That publication makes Haitian laws official.
But some senators cried foul because the wording of seven of the amendments had apparently been changed. The amendments were set aside for review, and Haiti has since been functioning under the original charter.
After months of haggling, reviewing tapes, and rewriting with civil society oversight, the Parliament sent a corrected, amended Constitution to the executive for signing, but a new dilemma emerged. Who should sign the document: Préval or Martelly?
The legal community, human rights groups, and even the Parliament are gravely split on how to resolve this new constitutional conundrum, leaving the old Constitution still in effect.
Meanwhile, Sen. Moïse Jean-Charles claims he has been receiving many death threats since leveling his charges against President Martelly. Call-in radio talk shows buzzing with speculation about the confrontation inevitably end with callers warning Jean-Charles to take strong measures to ensure his security.
"I am not afraid and will see this matter through to the end," the senator declared.