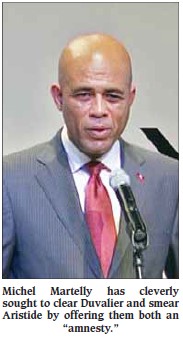 As human rights lawyers assist the outgoing Haitian government in preparing a legal case against former "President for Life" Jean-Claude "Baby Doc" Duvalier, Haiti's incoming president revealed this week that he favors granting the recently returned dictator an amnesty from prosecution. In an interview with Montreal's French-language daily La Presse, Michel "Sweet Micky" Martelly said that he "could eventually think of that (an amnesty) to the extent that those who were hurt in the past understand the need for reconciliation" and that "I'm leaning toward the side of amnesty and forgiveness."
Martelly, who was a vocal supporter of both the 1991 and 2004 coups d'état against former Haitian President Jean-Bertrand Aristide, cleverly used the same brush to whitewash Duvalier and smear Aristide. (Duvalier returned to Haiti on Jan. 16 after being chased out by a popular uprising 25 years earlier. Aristide returned on Mar. 18, having been kidnapped from his home by U.S. Special Forces soldiers on Feb. 29, 2004 and flown into exile in Africa.) "Their cases are not as unique as you might think," Martelly said. "They belong here and I welcome them. If they've had problems or acted badly in the past, it's a matter for the justice system."
But the former presidents are politically polar opposites. The U.S. backed the never-elected Duvalier for 15 years until his final days in power, while it twice helped to overthrow the twice massively elected Aristide. "Duvalier has been charged with many crimes and been found civilly liable for hundreds of millions of dollars as a result of his crimes," notes lawyer Brian Concannon of the Institute for Justice and Democracy in Haiti (IJDH). "There are no criminal charges against Aristide, despite millions of dollars invested by the U.S. in pursuing him over 15 years."
A large team of Haitian and international lawyers are helping the Haitian government to put together the Duvalier prosecution and process complaints being filed by Duvalier era victims living in Haiti and its diaspora. Groups helping the prosecution include the Port-au-Prince-based Office of International Lawyers (BAI) and its sister organization, the Boston- based Institute for Justice and Democracy in Haiti (IJDH), the International Center for Transitional Justice, and, more recently, the UN High Commission for Human Rights.
Human Rights Watch has also taken a strong interest and role in championing the case, issuing last week a 54 page report entitled "Haiti's Rendezvous With History: The Case of Jean-Claude Duvalier." It examines the legal and practical questions surrounding the case and concludes that Haiti has an obligation under international law to investigate and prosecute the grave violations of human rights under Duvalier's rule.
"The Duvalier trial could be the most important criminal case in Haitian history," said Reed Brody, counsel for Human Rights Watch. "The challenges for Haiti's weak justice system to carry out a fair trial are enormous, but international support can help Haiti meet those challenges."
Meanwhile, many of the charges of corruption and repression in the case being formulated against Duvalier involve crimes against humanity, which have no statutes of limitations. "A president cannot give Duvalier an amnesty for gross human rights violations because that would violate international law and would be unconstitutional," explained the BAI's lead lawyer Mario Joseph. "There are no constitutional provisions which would allow Martelly to give such an amnesty."
Among the crimes outlined in the HRW report are that "hundreds of political prisoners held in a network of three prisons known as the 'triangle of death' died from maltreatment or were victims of extrajudicial killings." "Many political prisoners who entered the triangle of death were never released, and their whereabouts remain unknown to their families," the report also charges. "Summary executions of prisoners are also alleged to have occurred, including prisoners at Fort Dimanche on August 7, 1974, seven people executed on March 25, 1976, and eight prisoners reportedly executed at Morne Christophe and Titanyen on September 21, 1977. Political killings by security forces also took place."
The report also details how "political prisoners often faced interrogation and savage torture," and that "freedoms of association, assembly, and expression were severely restricted. The government repeatedly closed independent newspapers and radio stations. Journalists were beaten, jailed and forced to leave the country."
To date, some 19 victims of Duvalier have filed complaints with the state prosecutor related to crimes against humanity and human rights violations. On Apr. 20, four days late, Haiti's Provisional Electoral Council (CEP) is due to announce final results of the Mar. 20 second round, which preliminary results, announced Apr. 4, gave to Martelly by a margin of two to one. (He won with only about 16% of the electorate due to a pointed abstention rate of over 75% by Haiti's 4.3 million voters.)
But even before his official announcement, Martelly has begun his victory laps and honeymoon declarations. Journalists who have interviewed him say that his political consultants of Ostos & Sola have been reinforced with new handlers, who observe and coach him through interviews to hone his "message."
On Apr. 19, he traveled to Washington for three days of meetings with U.S. and international financial institution officials including U.S. Secretary of State Hillary Clinton, World Bank president Bob Zoellick, International Monetary Fund president Dominique Strauss-Kahn, and representatives of the Inter-American Development Bank. He also has interviews planned with media like CNN, the Washington Post and Fox News, as well as an address at Washington's National Press Club.
After Washington, Martelly will reportedly visit Brazil, whose troops head the 13,000-member United Nations military occupation of Haiti, known as MINUSTAH. Despite his pseudo-nationalist flourishes and plans to reactivate the Haitian Army demobilized by Aristide in 1995, a high-placed diplomatic sources claims that Martelly has formally asked the occupation authorities to have their troops stay on during his term.
On Apr. 15, Martelly met with lame-duck president René Préval, who will step down on May 14. Despite Martelly's threats during his campaign that Préval "must leave Haiti," the two-hour meeting was cordial, with Martelly saying "there was not a personal conflict with René Préval; the important thing is for us to unite our forces to put the country on the path of progress."
Préval's party, Unity, has, by preliminary results which may change, an absolute majority of 17 senators in the 30 seat Senate, and a relative majority – 34 members – in the 99 seat Chamber of Deputies. With this knowledge, Préval said that "I promised Michel to work with the parliamentarians so that there is an effective collaboration."
The airwaves are filled with the expressions of goodwill that precede every political rumble in Haiti. Dismay César, a faux-Lavalas leader of the Together We Are Strong party (Ansanm Nou Fò) which has the third largest presence among Deputies, announced that his party has "already met with those close to Martelly" and "we told them that we would not be a factor of blockage" in the Parliament.
Meanwhile, former 2004- coup "rebel" leader Guy Philippe of the National Reconstruction Front (FRN) announced that his party "had supported the candidacy of Mr. Martelly due to his promises to break with the current political system and to provide free education throughout the country."
Indeed, Martelly's promise of free education for all was one of his principal selling points but may prove to be his voters' first deception. Already, one campaign source suggests that the "universal free education" may be restricted to primary school children and not be fully implemented around Haiti until the end of his five year term.