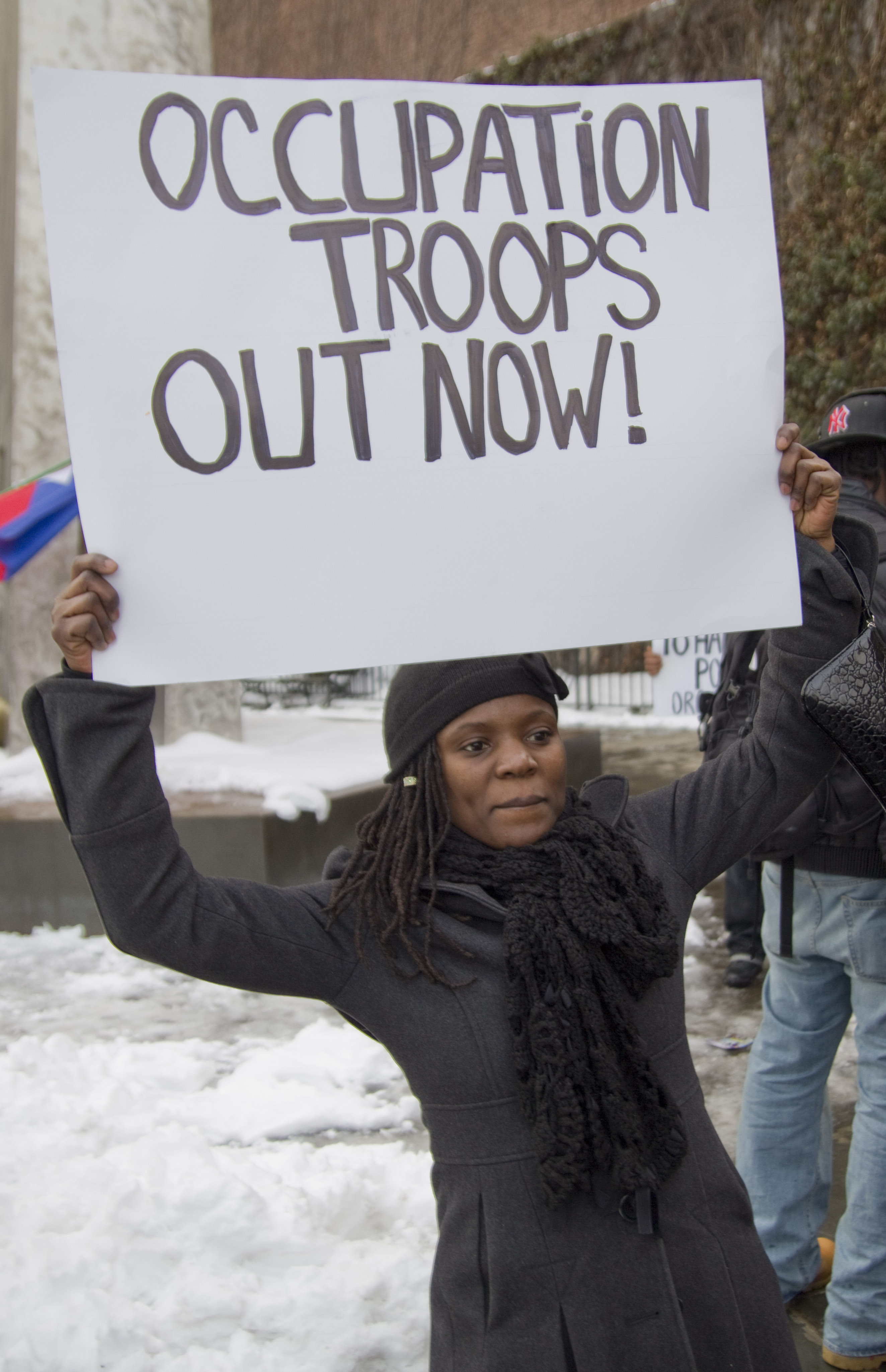 Across the U.S. and Canada, Haitians and their international supporters held rallies, meetings, masses and other commemorations on January 12 to mark the first anniversary of the devastating earthquake that claimed the lives of a quarter million Haitians last year.
In New York, members of the January 12th Haiti Committee held a press conference in front of the Haitian Consulate on Madison Avenue to demand that international emergency aid be channeled to Haitian popular organizations rather than foreign NGOs and that UN occupation troops immediately leave the country. Then about 400 people marched from Times Square to the Haitian Consulate, where several demonstrators were arrested after blocking the street in a civil disobedience action. The demonstrators then continued on to the UN where they rallied in Dag Hammarskjold Plaza, with a smaller group in Ralph Bunche Park. Many of the demonstrators held signs demanding that aid money and housing be delivered to the 1.3 million still homeless earthquake victims.
In Miami, there was an evening rally of about 1000 on January 11 at the Manno Sanon Stadium in Little Haiti organized by the January 12 Coalition, which included the popular organization Veye Yo, the Grassroots Coalition, Haitian Women in Miami, Konbit and others. Then on the morning of January 12, about 300 people marched from Veye Yo on 54th Street to the Toussaint Monument on 62nd Street, where they rallied. The crowd then went to the Toussaint Louverture Community Center on 82nd Street for the premiere showing of "Nou Bouke" (We Are Tired), a documentary produced by three Miami Herald reporters, Joe Cardona, Jose Iglesias, and Nancy San Martin. There was also a rally in North Miami, where Haitian-American mayor André Pierre hosted a rally that featured pastors and solidarity messages. Finally at 7 p.m., there was the unveiling of a mural which depicts and commemorates the earthquake victims and survivors at the corner 79th and NE 2nd Avenue. Miami-Dade mayor Carlos Alvarez, also held a commemorative ceremony at the Miami-Dade County Office Building, where the city issued a "Certificate of Appreciation" for the work of Haïti Liberté.
In Boston, Physicians for Haiti organized talks at major medical, rehabilitation and community centers as well as media outlets with Drs. Inobert Pierre and Miliane Clermont, two Haitian physicians who have been working St. Boniface Hospital in Fond des Blancs, Haiti. They shared their stories and spent time with leaders in rehabilitation, spinal cord injury, community health worker-based medical systems, and various other fields of medicine. On January 14, Partners in Health had a citywide memorial, "Reflect, Remember, Respond," attended by about 300, that featured physicians, nurses, quake survivors, as well as many of the organization's contributors and on-the-ground partners. There were talks and videos of survivors (some of whom where in the audience) recounting the earthquake during the first days before help arrived, as well as interviews with internally displaced people about what Haiti is like one year later There were also community organized events in Cambridge, Roxbury and Somerville, the latter two being neighborhoods where many Boston area Haitians live.
In Montreal, a solemn, ecumenical service at the St. Joseph Oratorio drew 1,600 people on January 12. It was organized by the Haitian community radio station, CPAM. The station was also a co-host of a two hour radio broadcast with Radio Canada, Canada's French-language national broadcaster. Several discussion gatherings took place in the city, where the Haitian community numbers about 80,000.
In Winnipeg, the Haitian community held a memorial service on January 12. The following day, the Winnipeg Haiti Action Group held a public forum attended by 30 people. Ralph Paul and Jord Samolesky gave presentations that examined the accomplishments as well as the shortcomings of the international relief effort. They stressed that policies by the world's wealthy countries to weaken and undermine Haiti's political sovereignty over the past 25 years contributed greatly to the country's vulnerability to the earthquake.
Groups of medical students and professionals as well as architecture students attended the forum. The medical group is organizing a speaking tour to the city in March of a spokesperson of Partners In Health, one of the preeminent health providers in Haiti. The architecture students are working with the local Haitian community on a submission to Haitian authorities of reconstruction proposals for neighborhoods destroyed by the earthquake.
Two public forums were held in Vancouver. On January 12, the city's Haitian community organization, Help Hear Haiti, hosted a gathering co-sponsored by the Social Justice Committee of the Unitarian Church. It featured music as well as talks by aid workers and Haitian community members who have volunteered in Haiti since the earthquake. On January 14, Haiti Solidarity BC hosted a panel discussion with five speakers that looked in detail at the post-earthquake situation. One of the panelists, Garry Auguste, has traveled to Haiti four times since the earthquake and he expressed his frustration the slow pace of aid and reconstruction.
David Putt, a volunteer with Pure Water for the World, gave dramatic testimony of the hours and days following the earthquake. His organization was thrust into the center of earthquake relief, becoming the de facto supplier of potable water to one of Port au Prince's largest displaced person camps, Champs de Mars. He is returning shortly to Haiti for a three month tour of duty. In Toronto, fifty people attended a public forum featuring Rea Dol, Director of the SOPUDEP School in Port au Prince. The meeting was organized by the Toronto Haiti Action Committee. Dol is on a speaking tour to southern Ontario, Montreal and Ottawa where she will meet with school boards, teacher unions and other potential donors to her school project and other public education initiatives in Haiti.
Her visit to Toronto was publicized in an article in the Toronto Star, Canada's largest circulation daily newspaper. The public meeting raised $2,600 for the school. Other donors have come forward as a result of the article in the Star. Haiti's leading human rights attorney, Mario Joseph, will join Rea Dol at public speaking engagements in Montreal and Ottawa this coming week. Joseph will also meet with legal professionals and trade unions. His legal office, the Bureau des avocats internationaux, represents several groups of workers in Haiti, including the Autonomous Confederation of Haitian Unions (CATH). For information on their speaking events, see here: http://www.canadahaitiaction.ca/events.