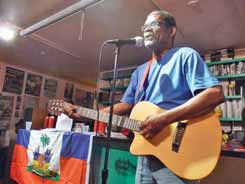 Manno Charlemagne singing at the Maysles Cinema on May 18
After almost 20 years, Manno Charlemagne, the Haitian folksinger whose lyrics and melodies have inspired a generation of Haitian activists and revolutionaries, is fi nally returning to perform in Brooklyn, NY, where he spent many of his most prolifi c years in the early 1980s exiled by the Duvalier regime.
On Sat., Jun. 5, 2010, he will perform at Haïti Liberté at 1583 Albany Avenue in the heart of Brooklyn's Little Haiti neighborhood. Manno last performed a public concert in Brooklyn in 1992, after being briefl y imprisoned by military authorities and then taking refuge in the Argentinian Embassy following the 1991 coup d'état that overthrew President Jean-Bertrand Aristide.
Jean-Bertrand Aristide. Prior to his concert, there will be a presentation of a 52-minute fi lm about his life and music entitled "Dans la Gueule du Crocodile" (In the Crocodile's Mouth), produced in 1998 by Catherine Larivain and Lucie Ouimet (in Kreyòl and French with no subtitles). After being elected as the mayor of Haiti's capital, Port-au-Prince, in 1995, Manno served a tumultuous and truncated term, which is well illustrated in the fi lm.
Since 1999, the singer has lived mostly in Miami, performing twice weekly with his band at the celebrated Tap Tap Restaurant in South Beach, with occasional forays to Canada and Europe. On May 18, Haitian Flag Day, he gave a solo performance at the Maysles Cinema to an enthusiastic audience in Harlem. On May 20, he also performed one of his signature songs – "Banm Yon Ti Limyè" (Give Me a Little Light) – at the star-studded gala benefi t for the Jazz Foundation of America at Harlem's historic Apollo Theatre. The performance and fi lm presentation at Haïti Liberté will begin at 7 p.m.. A contribution of $10 is requested.