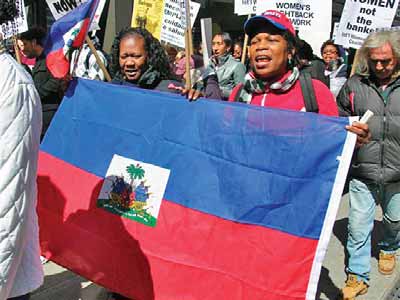 On Mar. 27, some 200 women gathered at Union Square in Manhattan to commemorate 100 years of women's resistance as part of International Women's Month. The action was organized by the International Women's Fightback Network and sponsored by the International Working Women's Day 2010 Coalition.
Speakers for several women's organizations from different countries talked about the problems they faced here in the U.S. and in their homelands. There were speakers from Palestine, Nigeria, the Philippines, and Cuba, among others.
Haitian singer and activist Jocelyne Gay spoke on behalf of Haitian women, telling how they worked at jobs ranging from factory workers to farmers. She explained women's central role in Haitian society, raising children, organizing markets, and sustaining families.
Haiti is often called the poorest nation in the Western Hemisphere. For Gay, this reputation is undeserved because she believes Haiti has a lot of natural resources.
Women to Free Mumia Abu-Jamal talked about going to Washington, DC to fi ght for the release of this famous US political prisoner. Speakers also talked about other political repression in the U.S., such as the case of two sisters jailed for stealing $11 in Mississippi.
The marchers left Union Square at 1:30 p.m., walking on Broadway to the Bank of America. They then walked to the Triangle Shirtwaist Fire Memorial, where 146 women and girl workers were killed in a fi re in 1911. The marchers continued on to St. Vincent's Hospital to protest its closing. After that, marchers went to the Solidarity Center at 55 W. 17th Street where they enjoyed talk and refreshments.