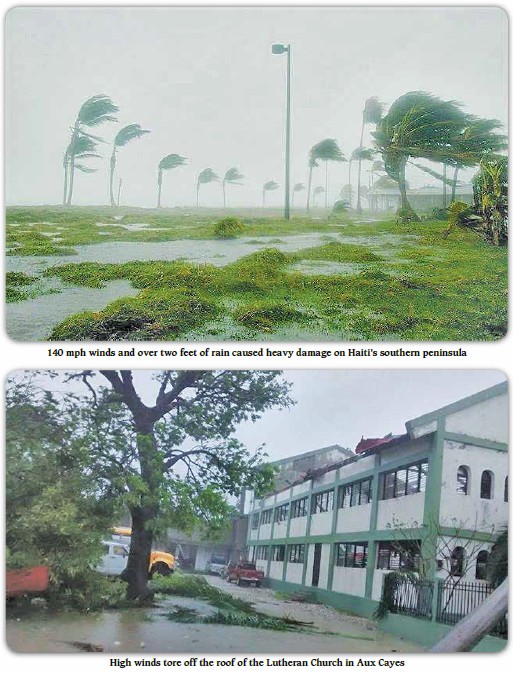 Hurricane Matthew, a Category 4 storm with sustained winds of 140 mph, slammed into Haiti's southern peninsula in the early morning hours of Tue., Oct. 4, leaving a swath of ripped off roofs, stripped trees, raging rivers, and flooded streets.
The storm dumped over two feet of rain water on Haiti in the space of 24 hours.
At press time, the storm-caused death toll in Haiti was only three, although officials expect it to rise as reports from remote and flooding-isolated regions come in.
In the southern coastal town of Port Salut, over which the eye of the hurricane passed, a 26-year-old man drowned trying to rescue a child who fell into a rain-swollen river, according to the Associated Press. The child was saved.
Reuters reported that another man in Port Salut, too sick to leave his home, died when water flooded it.
Haiti's first casualty was a fisherman who was lost in heavy seas on Sep. 30, as the storm approached from the south. His body has been recovered.
Matthew has also killed four in the Dominican Republic, one in Colombia, and one in St. Vincent.
The cities of Les Cayes and Jérémie, between which the storm passed, were both severely flooded.
The picturesque white-sand beach of Port Salut, which has drawn much tourist development in recent years, was severely damaged and washed away, according to preliminary reports.
High winds and rain from the outer bands of the massive storm also lashed Port-au-Prince and Haiti's north as the storm barreled into Cuba's eastern tip later in the day on Oct. 4.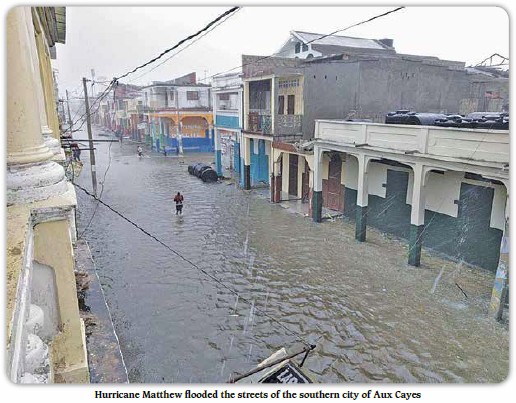 Most Haitians expect that the long-awaited presidential and legislative elections scheduled for Sun., Oct. 9 will have to be postponed as the Haitian government struggles with bringing relief to hurricane victims and repairing damaged infrastructure. The Provisional Electoral Council (CEP) said on Tuesday that the elections would go forward as scheduled, but "temporarily suspended" electoral activities.
The Ladigue bridge on Route National #2 in Petit Goâve was washed out by a swollen river, cutting off access to the hard-hit southern peninsula.
The U.S. Navy is sending an aircraft carrier, the USS George Washington, and an amphibious transport dock, the Mesa Verde, to assist in disaster relief, according to the Navy Times. This comes at Haiti's request, according to a U.S. Agency for International Development spokesman.
"U.S. Southern Command has also redeployed nine Marine helicopters and 100 personnel from Honduras to Grand Cayman to prepare for relief operations, according to a SOUTHCOM release," the Navy Times wrote.
The low death toll may be due to the fact that the Haitian government mobilized its very limited resources to be able to relocate over 18,000 people to 672 shelters – mostly schools and government buildings.
In a press conference by President Jocelerme Privert just hours before the storm hit, the government announced that it was distributing "hot meals, 1,250 blankets, and drinking water in Jérémie. Already 2,758 people have been evacuated, including 937 in the Grand-Anse department, 613 in Nippes, 739 in the South, and 319 in the Southeast department."
The government also announced that it had "already mobilized several thousand gallons of gasoline for vehicle service, [a] radio communication system ... for the departments of Grand Anse and the South, and the Haitian Red Cross" while "eight out of ten hospitals are functional."
On Oct. 3, Haiti's Culture and Communication Ministry also blasted "cybercriminals [who] are trying to take advantage of the special situation caused by Hurricane Matthew's passage across Haiti to create panic and confusion, by circulating on social networks, various erroneous or fabricated information." Some Tweets and Facebook postings had given false accounts of terrible destruction and death tolls.
The speed with which Hurricane Matthew became a Category 4 storm surprised many meteorologists, leading many to attribute its rapid growth to global warming.
In her recent book entitled "We Have Dared to Be Free: Haiti's Struggle Against Occupation," Haitian scientist turned author Dady Chery wrote the following:
"Scientific projections have made clear that during the next 25 years or so, global warming will generate increasingly more catastrophic weather events that will result in the destruction of most of the world's port cities and disappearance of many islands. Fires, floods, droughts, erosion of top soil, reduced landmass, decreased ocean salinities, loss of glacier water, and massive animal die offs, will put tremendous pressure on human populations. It is not a matter of if, but when, a hurricane as strong or stronger than typhoon Haiyan will hit the Gulf of Mexico and all of its oil rigs. This one-two punch of climate change and human technology will make the Exxon Valdez and BP oil spills look like mere puddles. The relentless auto-cannibalism of global corporatism will seize future disasters as opportunities for repression, exploitation, destruction of national sovereignty, and the creation of safe havens for the mega-rich under the protection of their private armies. Supranational armies such as the UN peacekeepers and supranational agreements like the Trans-Pacific Partnership (TPP) are meant to serve as corporate tools to unravel national and cultural specificity for the new world order."
Dr. Chery's thoughts are important to ponder as Haiti wrestles with yet another natural disaster.