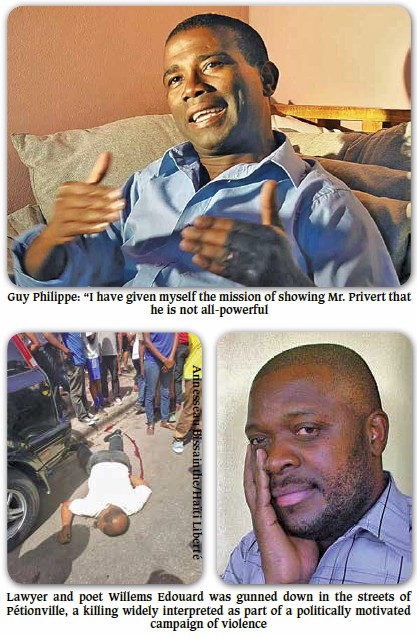 Guy Philippe, the leader of the so-called "rebels" who helped overthrow President Jean-Bertrand Aristide in 2004, challenged Haiti's interim President Jocelerme Privert to have his police force try to capture him.
"Everybody knows where I am," Philippe taunted Privert in a nine-minute recorded audio statement distributed last weekend to radio stations and on the Internet. "Everyone knows that as I'm speaking to you, I'm at the Carib Hotel in Pestel. And if Privert doesn't know the address, let me give the address. It's across from the hospital in Pestel, by the National Highschool.... If Privert wants me, he can come get me."
After a Bureau of Criminal Affairs (BAC) investigation, Haitian authorities issued an arrest warrant for Philippe for allegedly masterminding the deadly May 16 attack against the Aux Cayes Police Station in southern Haiti. Philippe says he "had nothing to do, either close-up or from a distance, with what happened in Aux Cayes," although several of the assailants captured afterwards claimed they were working for him.
Calling Privert "illegal, illegitimate, and maintained by strong-arm tactics," Philippe argued that Article 207 of the 2015 electoral decree gives him immunity as a senatorial candidate for the Nippes Department in a run-off scheduled for Oct. 9.
Calling the warrant "illegal," Philippe said any police officer or "someone dressed like one" attempting to arrest him would be breaking the law and therefore a mere "mercenary."
Philippe reproached parliamentarians, who have gathered three times in a National Assembly, for not voting to replace Privert, whose "first thing is to eliminate me" because he "doesn't want my discordant voice in Parliament," Philippe said. A former police chief and soldier, Philippe ran for President in 2006 but won less than 2% of the vote.
"I have given myself the mission of showing Mr. Privert that he is not all-powerful as he thinks he is," Philippe said. "If some mercenaries come to bother me one day, I ask the people to help me resist, because I will resist," just as he did the "illegal authority" of Presidents Aristide and René Préval in the past, he said.
Guy Philippe is also wanted by the U.S. Drug Enforcement Agency, which has twice in the past 12 years unsuccessfully tried to capture him.
In May, just days after the Aux Cayes attack, Philippe distributed a similar four-minute audio challenge, in which he called Privert "a monkey dressed in a tiger skin."
Meanwhile, in the capital, Port-au-Prince, gunmen killed dozens of civilians and police officers in an unprecedented wave of violence widely believed to be linked to Philippe and aimed at politically destabilizing Privert's government.
One of the most noted killings was that of prominent copyright lawyer Willems Edouard on Fri. Jul. 8 in Pétionville. Gunmen shot him dead with three bullets outside his office on Rue Gabart. He died at the scene. Mr. Edouard was also a journalist, university professor, and former Director of Haiti's National Press for seven years, from 2004 to 2011. He was also a poet, and Mémoire d'encrier published a book of his poems entitled "Plaies Intérimaires."
The numerous, widespread killings in July mark an uptick of violence from June when masked assailants sprayed landmark businesses around the capital with gunfire and killed a Swedish tourist.
During the first six months of 2016, some 20 policemen were killed by armed assailants, according to a Jul. 12, 2016 report by the Organization of Social Justice of Police Officers. The most recent killing was that of police officer Joseph Jean David, 39, from the 16th promotion of the Haitian National Police (PNH), assigned as Deputy Commissioner of Delmas 3. Gunmen fatally shot him on Mon., Jul. 11 in the Carrefour district of the capital.
"President Privert is not all-powerful," Philippe said in his statement. "Just ask my people, just ask my partisans... I ask the police to respect the laws of the game, to remember that they are auxiliaries of justice, and that they too must respect the law. I say to everybody that I respect the law, I want to respect the law, and I'm ready to respect the law. But faced with something that is illegal, something violent, the duty of a citizen is to defend himself."